Treatment Methods
Andrea practices Traditional Chinese Medicine, which includes the following treatment methods:

Traditional Chinese Acupuncture – The insertion of super-fine needles into the skin at specific acupuncture points to move qi, blood, and fluids in the body.
Traditional Japanese Acupuncture - A style of acupuncture that also uses fine needles but with a more shallow insertion. There is an emphasis on palpation and direct moxibustion.
Moxibustion Therapy - A soothing and warming process that involves the burning of moxa (Chinese Mugwort) over areas of the body or individual acupuncture points.
Chinese Herbal Medicine – Chinese herbs and medicinals can either be taken internally in the form of teas and pills, or applied externally in the form of poultices, plasters, and ointments. Herbal prescriptions are based on each individual's condition and diagnosis.
Tui Na Massage – A form of Traditional Chinese medical massage and acupressure that is used in combination with acupuncture and Chinese herbal medicine to treat a wide range of conditions.
Cupping - A technique in which small glass cups are placed on the skin via suction created by heat. This process stimulates blood flow and moves qi and feels like a deep tissue massage.
Dietary Advice - Differing from western nutritional advice, this is based on each individual's condition, lifestyle needs and Chinese medical diagnosis.
Other healing arts - Including breathing techniques, Chinese sleeping practices, Tai Ji, and Qi Gong.
Areas of Experience:
Addiction
Allergies
Asthma
Chronic FatigueSyndrome
Colds and Flu's
Dermatology
Fibromyalgia
Gastrointestinal Disorders
Geriatrics
Headaches/Migraines
Hypertension
Infertility
Insomnia
Menstrual Disorders
Musculoskeletal Disorders
Obstetrics & Gynecology
Oncology Support
Pain Management
Pediatrics
Psychological/Emotional
Disorders
Rheumatology
Sexual Dysfunction
Smoking
Stress/Anxiety
Weight Reduction
Women's Health
Treatment Methods:
Acupressure
Acupuncture
Cupping
Gua Sha
Herbology
Moxibustion
NADA (National Acupuncture Detoxification Association)
Tui Na (Chinese Bodywork)
Styles of Acupuncture:
Auricular Acupuncture
Japanese Style Acupuncture
Scalp Acupuncture
Traditional Chinese Acupuncture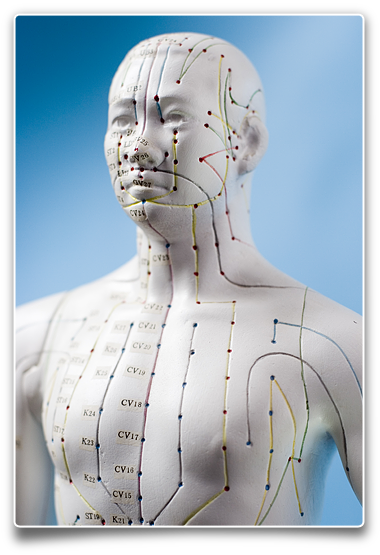 A Traditional Chinese Acupunture Figure

Use our online scheduler to create your appointment now!